In spite of the Easter weekend, more than thirty volunteers showed up Saturday, March 31 for the Fifth Annual Oil Creek Cleanup Event. Not only did they fill a total of 147 trash bags, they also removed a load of metal and two tires from the stream area, resulting in a much-improved habitat for the aquatic life and a cleaner more enjoyable area for people using and passing by the area.
Volunteers also improved the health of the stream corridor by removing highly invasive, exotic plants such as bush and Japanese honeysuckle and wintercreeper. These plants, used over decades as ornamentals in landscaping, have escaped cultivation (as have many other exotic species!) and severely degrade natural habitat by displacing native, spring-blooming and other native plants.
After the cleanup, volunteers participated in a stream monitoring demonstration led by Missouri Stream Teams coordinator Scott Sigman. They gathered around the net to search for and identify the tiny macro-invertebrates present in the net of materials dredged from Oil Creek and learned how the presence or absence of certain "bug" species is an indicator of the quality of the water.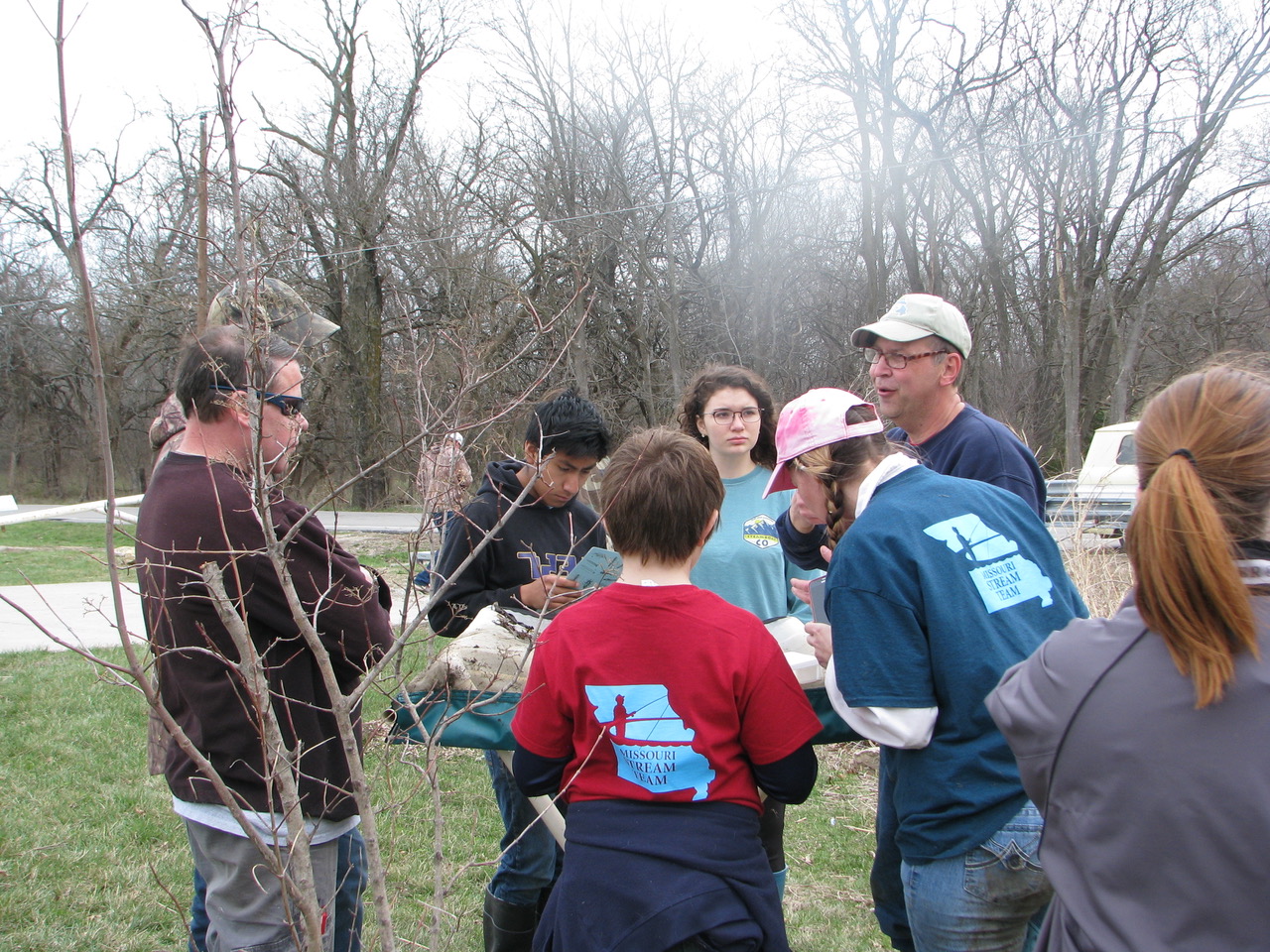 On arrival, volunteers enjoyed fresh hot coffee donated by Starbucks and donuts provided by Belton Parks & Recreation. Awesome burgers and hotdogs provided and prepared by Belton Parks & Recreation staff awaited them at the end of the event.
Plastic bottles, beverage cups, Styrofoam packing material, plastic bags, and food wrappers made up the bulk of the litter that was removed.  We can all pitch in to avoid this unhealthy and unsightly accumulation of litter by recycling recyclable materials and properly disposing of waste and by picking up litter wherever we encounter it. Other actions each of us can take include carrying reusable cups and containers for beverages and water.
This annual event is sponsored by the South Grand River Watershed Alliance, Belton Parks & Recreation, Missouri Department of Conservation, and Missouri Stream Teams. Be sure to watch for the March 2019 Sixth Annual Oil Creek Cleanup and make plans to take part. Visit www.sgrwa.orgfor information.