There is strength in numbers. Although an individual can accomplish a lot, when many individuals cooperate and work toward a common goal, such as protecting a watershed, the results of their efforts are multiplied and are more likely to be successful. Healthy water for drinking and personal use and for crucial habitat is a need we all share, and it is a goal we can all work together to achieve.  We can be far more influential in securing healthy waters in our watershed if we share both our interest in watershed health and information about how to protect the waters with our friends, neighbors and elected officials.
One way we can be more successful in attaining this goal is to join a watershed alliance and become a part of a grass roots effort where individuals work together to promote common good — clean water now and for the future.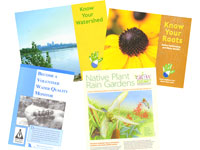 The South Grand River Watershed Alliance website, www.sgrwa.org, has many links to sources of information to help us all learn more about our watershed. Practices are outlined in these sources that are necessary if we are to be effective in protecting our essential need for clean, safe drinking water; restoring and preserving healthy habitat in and along our streams; having quality places for water recreation; providing beauty and economic value for our community; and maintaining the quantity of water in our aquifers and waterways.